In 2017 I swapped the motor in my MR2 to Toyota's 3.5L 2GR-FE V6, as documented in my blog. Despite the swap being quite well documented and many bolt-on parts being available, I still found a number of areas where I didn't like the available parts... So I made my own!
---
Y-Pipe
The Wilhelm Raceworks Y-Pipe for 2GR-FE swaps into the MKII MR2 connects Frankenstein Motorworks headers to the Berk Technology muffler.   304 stainless steel TIG welded construction, with 2.25" pipes before the merge and 3" pipe after the merge.  Includes stainless steel hardware for connection to both the headers and the muffler, as well as a gasket for the Y-pipe to muffler connection.
Made in the USA!
2GR-FE V6 Y-Pipe: $700
Note for International Customers: My site does not calculate international shipping on the Y-pipe.  International shipping generally ranges from $90 to $130.
---
Oil Pan Baffle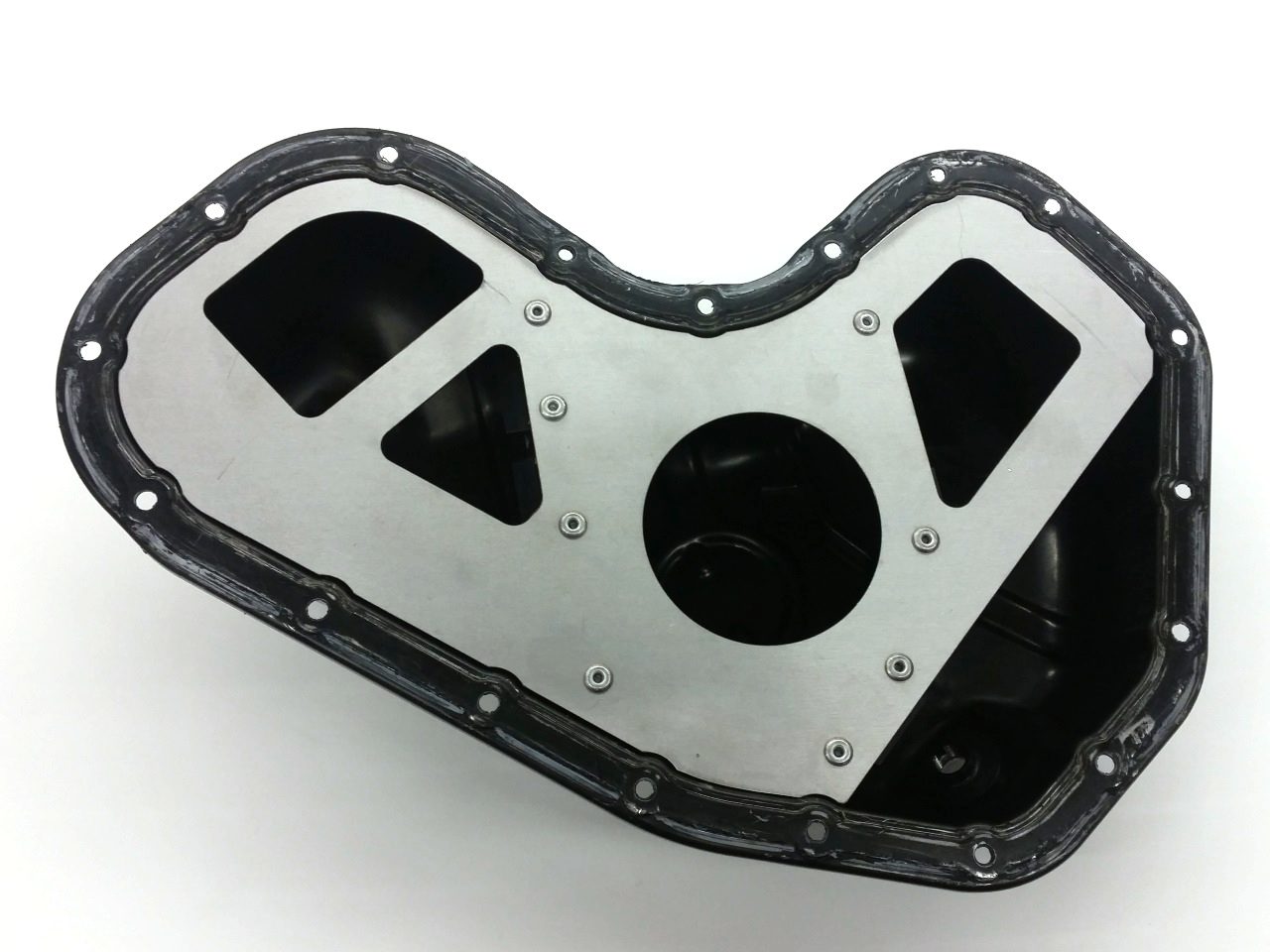 The Wilhelm Raceworks oil pan baffle for the 2GR-FE V6.  Designed to prevent oil starvation due to hard cornering, while being both cost effective and easy to install.  Consists of laser cut steel baffles with rubber oil control flaps.  Data from my own track and autocross sessions with the 2GR-FE has shown oil pressure drop on right hand turns, which this helps to correct.  I recommend over-filling the pan by about a half quart (1/4" to 1/3" on the dip stick) for best results.  See this article for more detailed information.
The baffle is designed to be a close fit to both the upper and lower oil pans.  This enables it to be fixed in place with a bead of RTV around the perimeter of the upper baffle.  Welding is not required, although the baffle can also be welded in place if you have the means and desire to do so.
Made in the USA!
2GR-FE Oil Pan Baffle: $150
Due to it's size, shipping cost on the baffle is a little higher than one might expect, particularly for my international customers.  If you want to save a few bucks on shipping I can ship it disassembled (you install the rivets). This also allows it to combine more easily with other items for even greater shipping savings. I also knock a few bucks off the price since I don't have to assemble it.
2GR-FE Oil Pan Baffle (Assembly Required): $145
One of my customers made this very nice video showing the assembly and installation process.  Thanks Russ!
---
Water Neck
Swapping the 2GR-FE V6 into the MR2 requires the addition of a coolant fill port in the engine bay.  The simplest way is to add the port directly to the water outlet neck.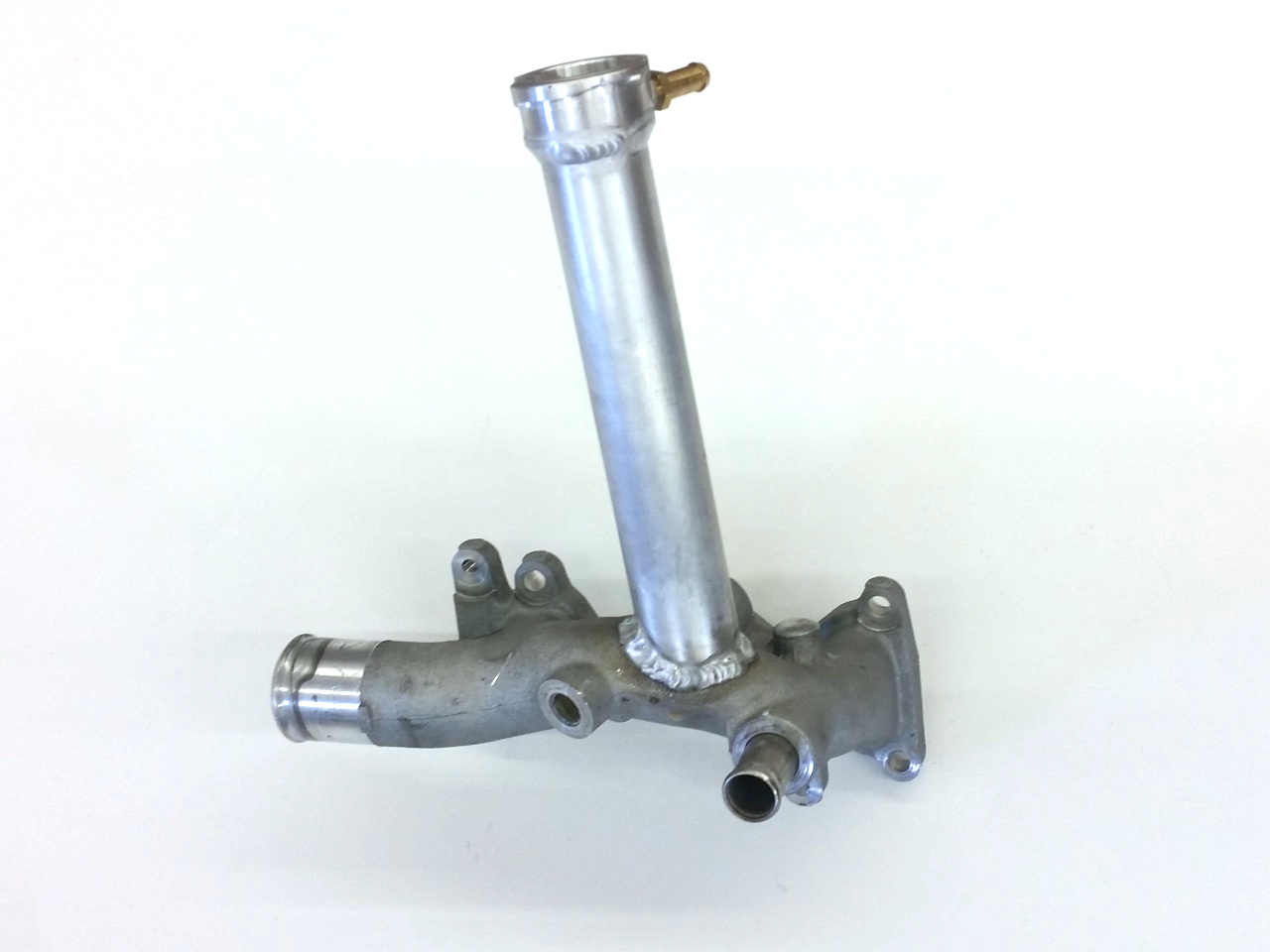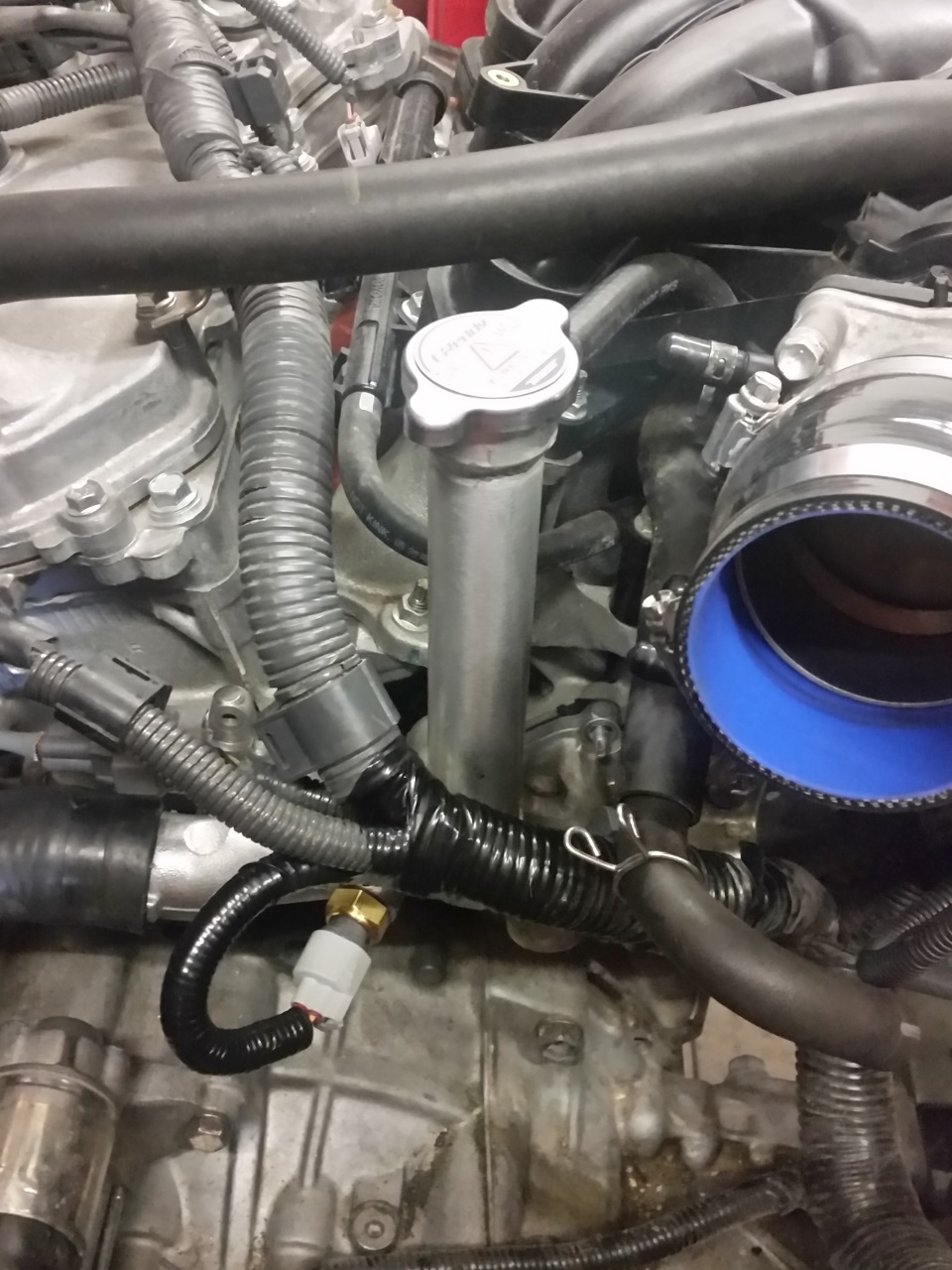 This is a modification service.  Send in the water outlet neck from your engine and I will modify it, pressure test it, and send it back.  Turn-around time will depend on how busy I am, but typically should be one to two weeks.  I can also weld shut "extra" ports such as those for the heater core or throttle body if you won't be using them on your swap.  Please let me know  if you want this done.  For international customers or those looking for a zero downtime turn around I can source a water neck to modify, please contact me for more info.
I typically point the coolant overflow port toward the intake manifold as shown in the picture.  This allows the overflow hose to route down and follow the fuel line to the stock overflow bottle location.  If you prefer a different orientation please let me know.

Some water necks found on newer 2GRs have the throttle body heat port in a location that conflicts with the new filler.  If you have one of these and want to retain the throttle body heater lines you will need to source an alternate water neck (usually less than $50 on eBay).
The filler neck is compatible with your stock radiator cap.  If you wish to run a higher pressure cap, the chart below has part numbers for compatible Stant radiator caps at various pressures.  The stock MR2 cap is 13psi, however most 2GR equipped cars came with 16psi caps.
| | |
| --- | --- |
| Stant Part # | Pressure (psi) |
| 10267 | 20 |
| 10265 | 18 |
| 10233 | 16 |
| 10227 | 13 |
This modification does not include a provision for the temp sender for the stock MR2 gauge.  The simpler solution is to use a 3-pin temp sensor found on some Toyota models, as described in this thread on the MR2oc forum.
2GR-FE Water Neck Modification: $100
---
Fuel Filter Adapter Fitting
Sometimes it's the little things. A plumbing fitting for example. Especially a plumbing fitting that doesn't exist (until now). In this case, an adapter to allow a fuel pressure regulator to be mounted directly on the stock fuel filter.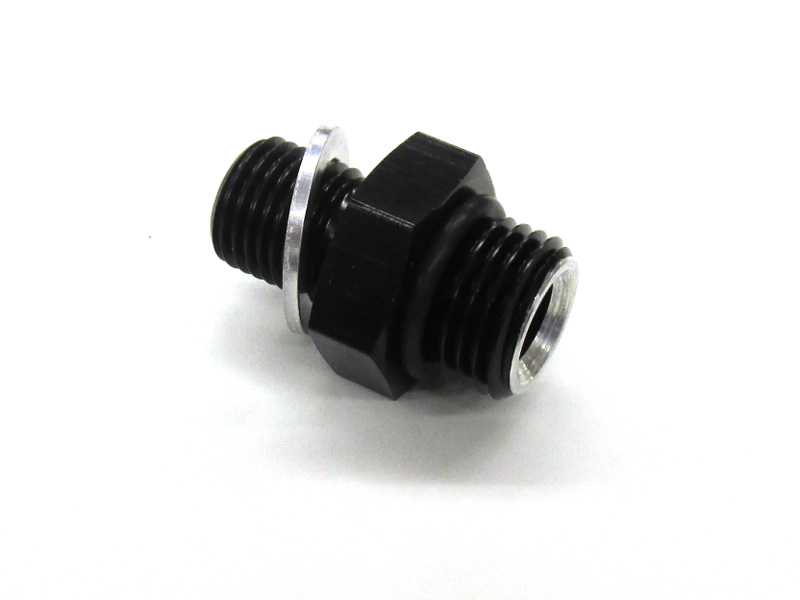 M12x1.25 to -6AN O-ring adapter.  Viton O-ring and aluminum crush washer included. This eliminates the need for mounting the regulator, eliminates one adapter fitting, and eliminates one piece of hose and two hose ends. Ideal for 2GR-FE or other V6 swaps where the motor requires a return-less fuel system with static fuel pressure, but could easily be used on a turbo setup as well.   In that case a vacuum line for the regulator pressure reference would be needed, as well as converting the fuel system to a dead-head setup.
$15 shipped
I used this fitting with a Radium regulator housing / Bosch OEM regulator, but it could also be used to mount other small adjustable FPR's as well.
The "teeth" on the top of the fuel filter may need to be bent in slightly to allow the regulator to screw on.  The filter and part of it's bracket will need to be removed to install the regulator, and the filter may need to be re-clocked in the bracket to achieve the desired regulator orientation.