2GR-FE Catch Can
2GR-FE Catch Can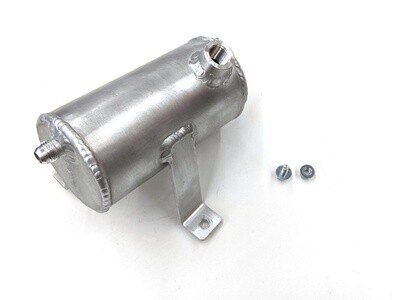 Oil catch can specifically designed for the 2GR swap in the SW20 MR2 chassis. The Wilhelm Raceworks catch can is internally baffled, and bolts to existing mounting points on the firewall. The can is intended to be installed with a drain back to the oil pan, so it will never need emptying! To facilitate this, the PCV valve must be moved to the 3/8 BSP port on the can.

The drain back is particularly beneficial on a track car where you may wish to over fill the oil by about a half quart to reduce oil starvation. Without the drain, eventually the extra oil will end up in the catch can where it won't do your motor any good. If you don't wish to use the drain, a 6an cap can be installed, or a drain hose with a valve at the end to make emptying the can easier and cleaner.

The catch has a 6an inlet fitting on the top, and a 6an on the bottom for the drain. A piece of 6an hose without fittings works perfectly for the line from the PCV valve to the manifold.
Hoses and fittings required for installation (not included)

Valve cover to catch can: 3/8BSP to 6AN adapter. 6AN hose, approximately 11" overall length, 90° and 120° hose ends.
Catch can drain: 6AN, approximately 22" overall length. 90° and 60° hose ends . I recommend some sort of heat sleeving on this hose due to proximity to the exhaust. A p-clamp to attach it to the slave cylinder would be a good idea as well.
Catch can to intake manifold: 6AN bare hose, no fittings - approximately 23" long (length may vary depending on which intake manifold you have installed)
Drain port in oil pan: 6AN sealed bulkhead fitting, or 6AN weld on, in upper pan near dipstick port
Brand:WilhelmRaceworks