2GR-FE X-Pipe Exhaust
X-Pipe Exhaust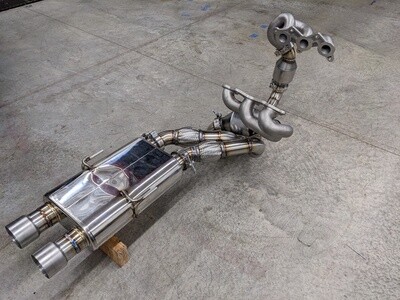 Dual exhaust system with X-pipe for the 2GR-FE swap in the SW20 MR2. Fits only with the Frankenstein Motorworks Cast Headers, not included. 304 stainless steel construction, fully back purged and tig welded, and made in the USA!
Includes dual Magnaflow metal core catalytic converters mounted in the OEM location directly off the header. Piping is equal length from the header outlet to the X pipe, AND the length of those pipes is 2x the length of the primaries in the header for improved exhaust scavenging and sound. My previous testing with other X-pipe systems has shown a substantial increase in midrange power vs a y-pipe, as well as some gain in top end power.
These are made in house, and made to order. Expect ~6 weeks lead time. Minor customization is possible (exhaust tips, for example) please contact me for details.
Images on this page show my prototype with single wall 3" exhaust tips. Future systems will use a dual wall 3.5" tip unless requested otherwise.

This will NOT work with the S54 transmission. E351 and E153 only. The front cat WILL clear the OEM oil cooler, but the coolant lines to the cooler will need to be rerouted to clear the header.
Polyurethane front and rear motor mounts are highly recommended. Clearance around the exhaust is tight, and excessive engine movement tends to break exhaust systems.

This system is intended to provide OEM level emissions, however it does not currently have an E.O. number assigned and as such is not legal for use in states that require that level of verification. Bungs for the post catalytic converter oxygen sensors are included.
The center exit system is loud at full throttle, but the Stainless Bros muffler does a very good job with drone reduction making it reasonably quiet while cruising. The dual muffler version is much quieter.
---
Please contact me to purchase replacement sections or individual components (replacement catalytic converters, for example).
Brand:WilhelmRaceworks
Center exit (470)
Dual (830)