Adjustable Front Strut Rods
Adjustable Front Strut Rods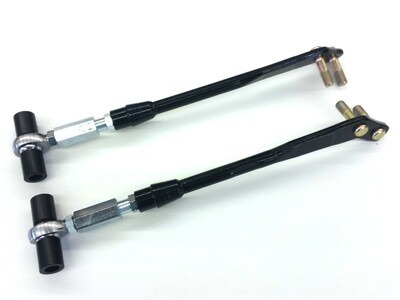 A set of stock strut rods is required as a core and must be received before your adjustable strut rods will be shipped. Please be prepared to ship them immediately after ordering. If your core is not received within 30 days your order will be canceled minus a 3% credit card fee.

Adjustable front strut rods for the 93+ SW20 MR2. Add caster adjustment to your 93-99 MR2, while tightening the suspension by replacing the bushing with a rod end spherical bearing. These can also be used on a 91-92 MR2 by purchasing a pair of 93+ front strut rod brackets and pivot bolts.

Featuring double threaded linkage adjuster for easy adjustment on the car and alloy steel FK 3-piece rod ends.. Wilhelm Raceworks front strut rods are based on OEM parts, and include re-finished OEM studs for attachment to the control arm.
Cores may be either a 91 OR 93+ style strut rod. They must be straight and include the studs where they attach to the control arm, but otherwise condition is generally unimportant. Please be sure your name and / or order number is included with the core!

If you have the means to cut the core yourself you can reduce the size and weight to save on shipping by cutting them as shown here. This allows them to fit in a flat rate box and can save you 10 bucks or more on shipping, depending on your location.
Brand:WilhelmRaceworks