Aluminum Front Knuckles
Aluminum Front Knuckles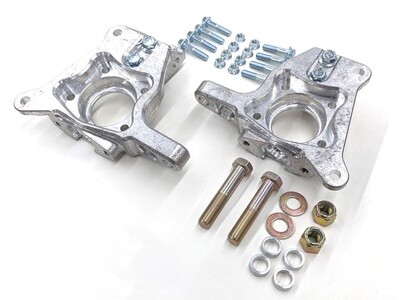 Benefits and Features:

-STRONGER HUBS! The MR2 front hubs are a serious weak point when subjected to the abuses of track or racing use. The Camry hubs used with these knuckles are approximately 1.5-1.7x stronger than the stock MR2 hubs.
-Easy wheel bearing changes due to the bolt on bearing and hub assembly. You also get a new hub with every wheel bearing change, reducing the concern of fatigue failure on the hub.
-Available with adjustable ackerman. Four positions, ranging from 7% ackerman up to 34% to allow steering geometry to be fine tuned to your application and tires.
-Alignment aid. Threaded hole in the top of the knuckle tab allows an M8 screw to be installed to reference a camber setting before taking the suspension apart, enabling it to be re-assembled to the same camber setting easily.
-Saves ~1.85lb per corner, a 10% weight reduction on the knuckle / hub assembly.
Requires:
-Rear hubs from 2002-2011 Camry. Not included. 2002-2004 has a non-ABS option that is slightly cheaper.
-If you have ABS: Rear ABS sensor wires from 2002-2011 Camry, plus two new connectors. You will crimp these onto the chassis end of the Camry wire. Note that if used with my "extreme" top mounts you will need to remove the extra back shell from the sensor connector to for it to fit.
-Roll center adjuster and front tie rod from Wilhelm Raceworks geometry correction kit, OR control arms with an inverted ball joint (plus WRW front tie rod). Matching rear geometry correction highly recommended.
Note: The hub flange is slightly larger diameter than the stock MR2 hubs, and are not compatible with stock MR2 rotors or with Supra rotors without modification to reduce the diameter of the hub flange. I can perform this modification for you, please contact me for details.
Installation instruction (2 piece)

Brand:WilhelmRaceworks