Oil Cooler Mounting Plate
Oil Cooler Mounting Plate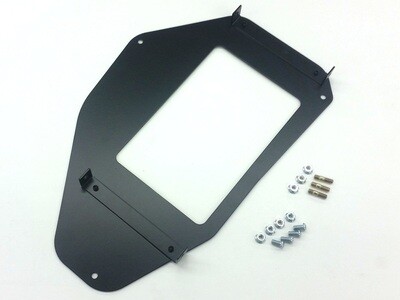 Laser cut and black powder coated mounting plate designed to mount either a Koyo (PN:
XC191106W
) or Mishimoto (PN: MMOC-19BK) 19 row oil cooler in the RH side vent of the MKII MR2. 19 row coolers from other manufacturers may also fit, but they have not been verified. Includes hardware to mount the plate to the car and also to mount the oil cooler to the plate. The Mishimoto cooler is slightly narrower than the Koyo, and spacers and longer screws are included to facilitate mounting. The spacers must be installed on the forward side to ensure the fittings clear the firewall.

Note, due to tight clearance you must use low profile 90 degree hose ends on the oil cooler. With the Koyo cooler, these must fit directly directly to the -10 O-ring port (no adapter). For example, Vibrant PN: 24908. The Mishimoto cooler comes with integrated flare fittings, and a fitting such as Vibrant PN: 21990 is required. There are of course similar options from other fitting manufacturers.
Brand:WilhelmRaceworks