Proportioning Valve Kit
Proportioning Valve Kit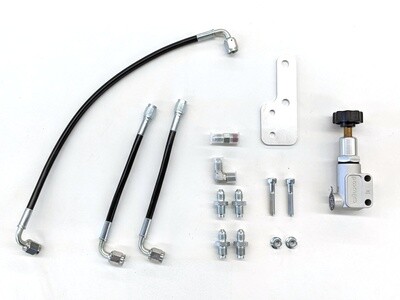 An adjustable brake proportioning valve allows the brake bias to be fine tuned to provide optimal bias over a wide range of deceleration rates. The stock MR2 Turbo valve in particular engages at much too high of a pressure to provide optimal brake bias with a big brake kit. The NA valve is better, but still not perfect. See my article on MR2 Brake Bias for more information on the subject. That page also has test data on the Wilwood proportioning valve and a downloadable calculator that you can use to help determine the optimal setting for the valve in your application. This kit includes everything you need for an easy bolt on installation of the Wilwood pn: 260-8419 adjustable proportioning valve. Note that the two adapter fittings that come with the proportioning valve are not used in this installation. On 93+ LHD cars, a replacement for the brake booster hose may be needed as the stock hose routes through the area where the valve mounts.
The ABS version of this kit should fit both LHD and RHD cars. A separate non-ABS kit for RHD cars is also available.
---
ABS Kit

When installed on an MR2 with ABS the stock proportioning valve will be eliminated completely. The kit includes two lines for hooking up the proportioning valve and a third to connect the master cylinder directly to the ABS system for the front brakes, as shown below. Be sure to hook the lines up to the correct ports on the ABS pump! You don't want to install the proportioning valve on the front brakes by mistake.
Note, the images above show a 93+ installation, with a custom piece of hose substituted for the stock brake booster hose. The stock hose should fit, but it comes quite close to the proportioning valve. If you chose to replace it as shown above, be sure the hose doesn't kink.
---
Non-ABS Kit
When installed on an MR2 without ABS the stock proportioning valve must be retained to function as the front brake T. The rear inlet and outlet lines to the stock proportioning valve are eliminated, and the two lower ports on the stock valve plugged with the supplied plug fittings. If you have or can get a spare T fitting from the MR2's rear brake system this can replace the proportioning valve. However these are not available from Toyota any more so you would need to source one from someone parting out a car. Aftermarket universal T fittings will not work with the stock MR2 hard lines, hence the need to retain the stock proportioning valve for most installations.
Brand:WilhelmRaceworks