Seat Brackets
Seat Brackets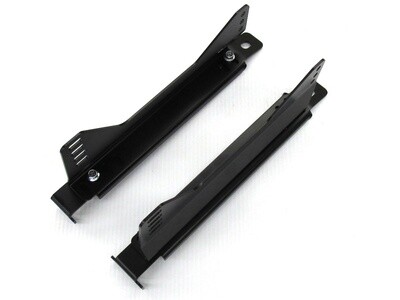 Bespoke seat brackets for the MKII MR2 to mount your side-mount racing seats as low as possible while also reducing weight! Designed around the Corbeau FX1 Pro seat, but with enough adjustability to fit most side mount racing seats, Wilhelm Raceworks seat brackets are available in your choice of steel or aluminum. Fits either LH or RH side in LHD or RHD cars. One set mounts one seat.

Steel brackets weigh 6.8 lb, and are made from 10ga (.135in / 3.4mm) steel and finished with black powder coating. While not specifically certified, they exceed the FIA thickness specification of 3mm for steel seat mounts.
Aluminum brackets weigh 2.7 lb (4.1 lb savings per seat!), and are made from .188in / 4.8mm aluminum and finished in the same black powder coat. This is slightly less than the FIA specified thickness of 5mm, so if strict compliance to that spec is important to you choose the steel brackets. The aluminum brackets also have a little less adjustability to accommodate shorter drivers, and do not have the lowest most mounting point found on the steel bracket (the lowest point is not usable on many seats due to floor clearance)
Made in the USA

---
These brackets are intended for track cars with racing harnesses. They do not include nor are they designed to be used with sliders, and they have no provision for the OEM seat belt attachment. If you want to use your OEM seat belts, you will need to remount the buckle to the mounting stud on the tunnel.
Should fit most side mount racing seats with 11.4" - 11.7" (290mm - 297mm) front-back mount spacing and 16" - 17.5" (407mm - 444mm) mounting width. However, keep in mind that the MR2 cockpit is quite small and wider seats may not fit in the car without modification. Notes about driver height are only what people have reported to me. Seats without a note are not necessarily any better than seats with a note.
Additional Seat Fitment Info (Click Here)

Confirmed Seat Fitment
Brand
Model
Bride
Low Max (Authentic & Replica)
Zeta II
Buddy Club
Racing Spec Bucket
Cobra
Evolution (Standard Size)
Monaco Pro (note: may not work well for drivers taller than ~6')
Corbeau
FX1 Pro (Pro only, standard and wide versions do NOT fit)
Driven Motorsports
GT Racing Seat
Momo
Super Cup (note: may not work well for drivers taller than ~5'10")
Acropolis (note: may need small spacers (washers) between seat and bracket)
NRG
Shield
OMP
First-R


TRS-E
Recaro
Pro Racer SPG
Pole Position - does NOT fit, seat touches floor
Sabelt
Titan Carbonio XL (Ferrari 458 Challenge) (note: swap upper brackets left to right)
Sparco
Corsa
Evo (Standard Size)
Pro 2000
Pro-ADV
Ergo (Standard Size) (note: may not work well for drivers taller than ~5'10")
Grid Q
Status
GTX (note: requires spacers to be added to rear side mount holes due to seat width)

---

I attempted to build in sufficient adjustability to accommodate a variety of seating positions. Personally, I am 6'1" and wear jeans with a 32" leg, and I use the brackets as configured in the images on this page. There is an additional one adjustment point further back, and two points forward (one point forward on aluminum brackets), all on 3/4" spacing. There are also several options for seat height and recline angle. However, please be aware that the rearward most position combined with the lower positions may make it very difficult or impossible to access the rear seat mounting bolts. This will also depend on the exact shape of the seat.
Brand:WilhelmRaceworks