StopTech Big Brake Kit
Stoptech Big Brake Kit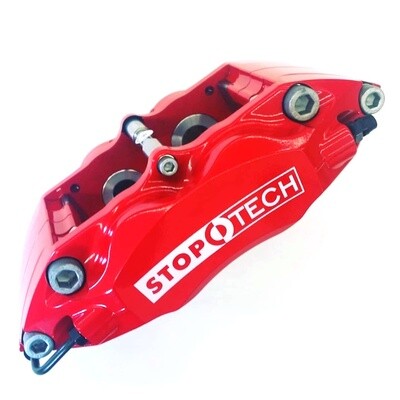 The ultimate MR2 brake kit! Complete front and rear kit, utilizes the same custom rotor hats and Wilwood rotors as the Wilhelm Raceworks Wilwood kit, and adds Stoptech's ST-43 Race caliper for industry leading caliper stiffness, with staggered pistons to combat pad taper wear. Additionally, the piston sizes are specifically chosen to optimize brake bias for the MKII MR2. You won't find these calipers anywhere else!
Currently, one set in stock with gray calipers for the NA proportioning valve. All other configurations are special order.

Additional Notes (Click Here)

The StopTech calipers in this kit are typically made to order. Estimated lead time is 6-8 weeks if they are not in stock.

The calipers included in this kit do not include dust seals. This can be a problem for passing inspections in some locations.
The Wilwood BP20 pads will handle quite a lot of track abuse in my experience, but they can be a little noisy when cold. The BP10 is more street friendly. Other pads are also available. Please contact me if you wish to discuss substituting alternate pads.
The calipers, rotors, and pads ship directly from a distributor and will arrive separately from the rest of the parts.
The HD or GT rotors are generally recommended for heavy track use. The Ultralite rotors will work, but may need to be replaced more frequently.
Additional Technical Info (Click Here)


Rotors


This kit can use virtually any 12.19" rotor with an 8x7.00" bolt pattern, 1.25" thickness for the front and .81" thickness for the rear. There are numerous options from various manufacturers including Wilwood, Afco, Colman Racing, and many others. They are available with straight or curved vanes, and slotted, cross drilled, or both. The Wilwood options are shown in the chart below. There are many others on the market as well. Be sure to purchase one right and one left if buying curved vane rotors!

Calipers

The parking caliper used with the kit is the Wilwood MC4. One of each LH/RH is required.

The part numbers above are the black powdercoated version. Red and silver are also available.



Brake Pads

Many companies make pads in many different compounds for the Wilwood FSL caliper, including but not limited to: Wilwood, Stoptech, Porterfield, Performance Friction, Hawk, Raybestos, etc. The Wilwood pad shape for the FSL calipers or the Stoptech ST43 is #7420, and for the FNDL is #7816.

Custom Parts

The Wilhelm Raceworks hats and main caliper brackets in this kit are machined from 6061-T6 aluminum, and black anodized. All are designed around the brake torque required for 1.4g deceleration, and with a factor of safety of 2x on the 500 million cycle fatigue strength of 6061-T6 aluminum.

The parking brake system in these kits is capable of achieving deceleration rates of ~.3g. More than enough to pass the emergency brake function tests that I am aware of. However, it is ultimately designed and intended to be a parking brake, or for that once-in-a-lifetime emergency situation. If you are drifting or doing hand-brake turns, you may find it to be insufficient.

Assuming adequate spoke to caliper clearance, most 16" wheels should fit over the front brakes without issue. The parking caliper in the rear might cause an issue with some 16" wheels. Use the template below to check fit on your wheels before ordering.
Brand:WilhelmRaceworks
Blank "HD" (0)
Slotted "GT" (100)
Ultralite (-265)
Gray Anodized (0)
Black Anodized (0)
Red (300)
For Turbo Proportioning Valve (0)
For NA or Adjustable Proportioning Valve (0)
Stoptech Sport (Streetable Track Pad) (0)
BP20 (Streetable Track Pad) (0)
BP10 (Street Pad) (0)
Yes (425)