E153 Transmission Cooler
E153 Transmission Cooler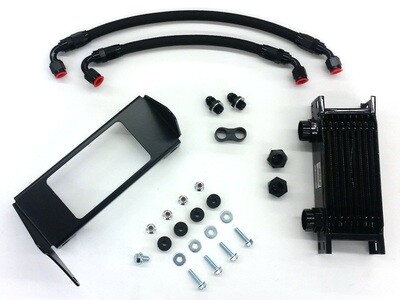 Tracking a car generates a lot of heat, and one area where cooling is often neglected is the transmission. MR2 endurance racers have found that keeping transmission temperatures under control is critical to transmission life, and I have personally seen transmission temperatures as high as 250°F (121°C) at a track day, prompting me to develop a small cooler solution for the e153 transmission. A laser cut sheet metal bracket bolts to three existing locations on the transmission and holds a narrow 10 row Earl's Ultrapro oil cooler, to be fed air by the stock plastic under panel scoop in front of the transmission.

With the cooler installed temps dropped to 227°F (108°C) under similar conditions to where I had previously seen 250°F. Note that I had also added a diffuser and transmission under panel which cut off most of the natural cooling to the transmission.
Available as either a complete kit including the Earl's cooler and PTFE -6 AN hoses custom made by Technafit, or just the bracket and hardware kit for those who want to DIY. This bracket could also be used to mount a small engine oil cooler for those who don't want to give up their stock side mount intercooler location. The kit is designed to use the Earls UltraPro oil cooler PN 210ERL. For those looking to DIY the lines, the transmission requires an M14x1.5 adapter.

The cooler and lines increase the fluid capacity of the transmission by approximately 6oz. A typical transmission drain / fill should still be less than 4 US quarts. However, I do recommend spinning the back wheel a few times while filling to pump fluid into the cooler to ensure that the final fill level is correct.

Brand:WilhelmRaceworks
Complete Transmission Cooler Kit (0)
Bracket and Hardware Only (-255)