Motion Control Coilovers
Motion Control Coilovers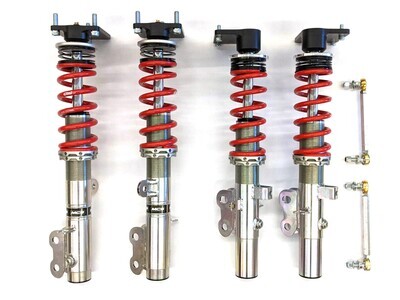 Premium, motorsports grade damper systems from Motion Control Suspension, for the SW20 MR2. Jointly developed for the MR2 by MCS and Wilhelm Raceworks, and available exclusively through Wilhelm Raceworks, the MCS damper system is one of the best currently on the market!

MCS dampers feature a monotube design, and are available in multiple configurations ranging from single adjustable (rebound only) up to 4-way adjustable (independent adjustment of low and high speed compression, and low and high speed rebound), with 2-way and 3-way options in between. Remote reservoirs are available on the 2-way adjustable, and standard on the 3 and 4 way. See the Motion Control buyers guide for more specific technical details.
All Wilhelm Raceworks coilover builds using MCS struts use 2.25" springs for maximum tire clearance, and lowest weight. Adjustable front sway bar end links and roller bearing front spring perches are also included.

Made in the USA! Built to order, please allow 4-10 weeks (depending on current strut body inventory).
---
NOTE: Due to the design of the adjuster, the rear inner strut mount point on the chassis must be enlarged in order to access the adjuster on the front strut when using with Wilhelm Raceworks standard top mounts. The extreme top mounts of course require a new hole be drilled for adjuster access, as described in my blog. The mild top mount option allows the adjuster to be accessed with no modification to the chassis, at the expense of tire clearance and camber curve.
Remote reservoirs provide an improvement in damper performance and adjustability, particularly in the ability to handle bumps and curbing on a track. However, they significantly complicate the installation as the hoses must be securely routed and the canisters mounted to the body of the car, and additional (large) holes may need to be drilled to pass the canisters through, depending on where you choose to mount them.
---
Spring Rates and Valving
The standard valving on these dampers will handle spring rates of approximately 200 lb/in to 800lb/in front, and 400lb/in to 1000lb/in rear using the built in adjustment. The exception to that is the 4 way dampers which have less adjustment range, allowing for more fine tuning around a chosen spring rate.
I have found that a spring rate ratio of about F/R=.75 to be ideal for the MR2, and the standard spring rate options reflect that. However custom spring rates are available on request.
The standard valving on the 1WNR damper is designed to provide a good ride for the street car that sees occasional track time. If you want to use the 1-way dampers on your purpose built race car, custom valving is available to optimize track performance at the expense of street ride. All of the other versions with adjustable compression damping can be adjusted for a more comfortable ride or stiffened up for track use.

Brand:WilhelmRaceworks