Rear Diffuser
Rear Diffuser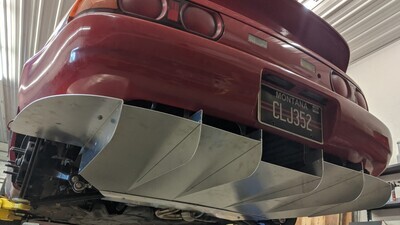 Sheet metal rear diffuser and transmission under panel for your MR2! Based on the prototype I described in my blog, with some improvements and additions. Laser cut and CNC bent from a combination of .100in and .050in aluminum sheet.
This diffuser will NOT fit any existing MR2 exhaust other than my center exit exhausts for 2GR swaps. For non-2GR applications, a custom center exit exhaust will be required.

A version with the center section raised to the same level as the other four tunnels is also available, for those with alternate exhaust exits (such as between the tail lights). This option is available only as part of a pre-order / group buy. Please leave me a note in the order comments section if you want this option.

Installation will require drilling two holes in the rear cross member and installing rivnuts in those holes. A half dozen holes in the rear bumper beam will also be required. The diffuser will ship disassembled, and unfinished. You may want to smooth the edges of the parts with sand paper and paint it, although it can also be left raw aluminum. Assembly and installation will require a pop-rivet tool, and a rivnut puller.
Brand:WilhelmRaceworks