SW20 Strut Mounts
SW20 Strut Mounts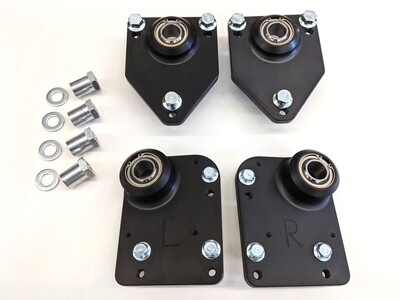 The Wilhelm Raceworks coilover top mounts for the MKII (SW20) MR2 provide significant improvements in dynamic camber and allow the suspension to move more freely by mounting both the shock and spring through the spherical bearing. These improvements are discussed further in my suspension analysis. They also provide more room for wider wheels and tires on the front of the car.

The top mounts can be configured in several ways. They will be assembled before shipping in whichever configuration you choose, but can be easily reconfigured later.

Standard: Provides the maximum increase in camber / strut angle without needing to cut or drill the body of the car. The front mount adds camber and caster, positioning the shock adjuster behind the rear inner strut mount bolt hole, allowing access to the adjuster.

Extreme: Moves the front strut top inboard by an additional 0.75" and the rear inboard by an additional 0.5". The benefits of this are discussed both in my suspension analysis as well as in the blog post where I talk about prototyping these mounts. This requires a hole be drilled in the chassis to access the adjuster on your shock, and may require modifications to your coilovers (such as slotting the knuckle brackets) in order to reduce camber to a reasonable level. This template can be used to assist in locating and drilling the required holes.

Mild (front only): Some camber and caster increase, but the adjuster remains within the large inner opening in the strut tower. This is option is beneficial for those without power steering, or for shocks that might require cutting even in the standard position. This position is not drilled by default, but dimples are provided to locate the holes. They can be drilled and tapped later by the end user, or if you select this option they will be drilled before shipping.
Made in the USA!
---
Coilover Fitment Info (Click Here)

In most cases the ID of the spring perch perch will match the thread size. The notable exception is on stock replacement struts such as the Koni Sport (Koni Yellow). These have a slightly larger diameter section below the threads. The data that I have been able to gather over the years is summarized below. Blanks indicate items for which I do not have confirmed data. Any information that you can provide to help expand or complete this table is greatly appreciated.


Coilover / Damper


Thread Size
Spring ID
Perch ID
Notes
Koni Sport
M14x1.5
2.5"
15mm


Koni Race
M14x1.5
2.5"
14mm


KW V3
M14x1.5
60mm
14mm
Requires rear spring perch.
JIC
M14x1.5


14mm


H&R
M14x1.5
60mm
14mm


Tien Basic
M14x1.5






Tien Flex
M14x1.5






Tien Mono-Flex
M14x1.5
2.5" (65mm)
15mm
Rear springs 70mm ID. Reuse existing rear spring perch.
I have ONE set of 70mm spring perches in stock, contact me to order.
BC Racing
M12x1.5
or
M12x1.25
60mm
12mm
Requires rear spring perch.
Thread pitch varies! Please double check before ordering.
Fortune Auto
M12x1.25
60mm
12mm
Requires rear spring perch.
Blitz ZZR
M12x1.25
60mm
12mm


Feal
M12x1.25






Additional Technical Details (Click Here)

The plates are machined from 6061-T6 aluminum and anodized flat black. The spherical bearings are made-in-the-USA FK pieces rated at over 7000lb axial load. Shoulder nuts to adapt the spherical bearing to the thread on the top of your strut shaft are included beginning in September 2017.

The front mounts will move the strut top inward significantly farther than any other on the market, as well as providing increased caster (about 7.2 degrees on my setup). In the "standard" configuration they position the adjuster knob on your strut in line with one of the bolt holes in the chassis, enabling these camber and caster gains without requiring any cutting of the chassis, as shown in the pictures below.

These are not "camber plates" in the traditional sense, that is, they are not adjustable. My opinion is that the proper use of adjustable camber plates is to set them to their max camber position, and then use crash bolts to set the desired camber at the hub. The reason for this is that leaning the strut inward provides significant improvement in camber curves, as discussed in my suspension analysis, as well as gaining clearance for wider wheels and tires. Additionally, changing camber plate settings has a large affect on toe, making it a more complex adjustment than it would appear. Better to just set it up once, and set it up right.

The increased caster causes the wheels to gain camber due to steering input giving you more camber when you need it most. The end result of all of this is that you can get the same or better cornering performance while actually running LESS static camber, providing better braking and acceleration grip, as well as better tire wear.


A few things to be aware of regarding the use of these mounts:

1. They provide a LOT of camber in front. Depending on your ride height and how much camber you want you may need to substitute a smaller bolt for your upper crash bolt. I have used a 12mm Grade 10.9 bolt from the hardware store, which enabled me to get down to about -2°. Two of the smallest Toyota crash bolts will get you to about -3°. Other aftermarket lobed camber bolts may be able to achieve similar results to the 12mm bolt I used, although I have not tested to confirm this.

2. The increased caster does effect steering effort. Its not a big deal with power steering, but if you have manual steering it may be more than you want to deal with. The added caster also may cause tire rubbing on the rear inside edge of the wheel well at full steering lock. This can usually be resolved by adjusting the strut rod to pull the wheel forward in the wheel well. Aftermarket adjustable strut rods are required on a 93+ MR2 in order to do this.

3. Because of moving the rear strut top in, the rear strut may contact the frame rails at full droop on some longer stroke coilovers. This isn't an issue under any normal circumstances, but it does limit droop travel slightly. Just something to be aware of. You may need to lift the hub with a jack and slightly compress the strut during installation. Most coilovers have a short enough stroke that this does not occur.

4. These mounts REQUIRE the use of a separate upper spring perch. Unlike many rear mounts, they are not designed to be use as a combined strut mount and spring perch. If your coilovers do not have a separate upper spring perch in the rear you will need to purchase those as well.

5. Due to the large diameter of stock and stock-style "lowering springs", these mounts will not work with those setups. Sorry, coilovers only.
Brand:WilhelmRaceworks