Koni Coilovers
Koni Coilovers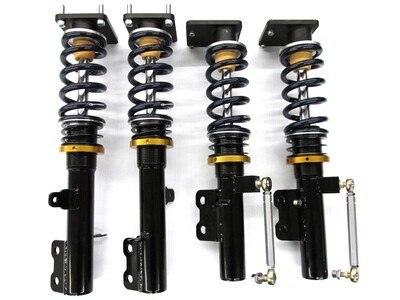 Fully assembled coilovers with your choice of spring rate, ready to bolt on and go. Featuring either Koni 8610 single adjustable inserts (rebound adjustable only), or 8611 double adjustable inserts (compression and rebound independently adjustable), plus your choice of spring rate, helper springs, roller-bearing front spring perches, adjustable front sway bar end links, and Wilhelm Raceworks Coilover Top Mounts. For the price, you will be hard-pressed to find a better suspension setup for your MR2.

IMPORTANT: I do not build these every day, and do not stock many of the parts. The coilover housings are typically built and powder coated to order. Typical build time is 6-8 weeks.

Extreme Top Mount Option: This option tilts the strut further in at the top, improving camber curves, roll center location, and wheel clearance. Coilovers ordered with this option will include a normal length front knuckle bracket (not extended like my standard housings) with an offset upper hole to help remove what would otherwise be excessive negative camber. This option will require drilling a new hole in the chassis of your car to access the rebound adjuster! See my blog post on the subject for more details. This template can be used to assist in locating and drilling the required holes.
Mild Top Mount Option: This option effects the front only. Less camber and caster are added compared to the standard top mounts, making for reduced steering effort. Primarily intended for manual steering. Tire clearance will be reduced!
Knuckle Tab Option (standard / mild top mounts only): The "standard" knuckle tab has a slotted upper hole to allow it to be used with either the extreme or standard top mounts. The "extended" tab provides more wheel and tire clearance for the standard or mild top mounts, at the expense of a slightly worse camber curve.
---
Housings
The housings are custom built from the ground up with .083 wall DOM tube, laser cut brackets and tabs, TIG welded, and finished with black powder coat. Wilhelm Raceworks coilover housings are designed around the Koni Race line of strut inserts. They also feature an extended knuckle bracket on the front strut for increased tire clearance, and as an added bonus are ≈1lb per corner lighter than modified stock housings. Standard insert part numbers are shown below:

| | | |
| --- | --- | --- |
| | Single Adjustable | Double Adjustable |
| Front | 8610-1436 | 8611-1257 |
| Rear | 8610-1437 | 8611-1259 |
---
Accessories

Coilovers typically require shorter front end links, and these are no exception. Made with three piece FK rod ends and aluminum hex center sections, Wilhelm Raceworks end links are fully adjustable to eliminate sway bar preload and easily rebuildable should the rod ends wear out.
All Wilhelm Raceworks coilovers include a front upper spring perch with an integrated, sealed, angular contact roller bearing. This allows the steering action to be handled by a bearing intended for that rotary motion, just like the stock Toyota upper mounts. Steering feel is significantly improved, and maintenance is reduced compared to using "Torrington" thrust roller bearings under the springs.
---
Spring Rates

Spring rates should be tailored to your intended use. Softer rates of course provide a better ride, assuming enough travel to avoid bottoming out on bumps. Stiffer rates reduce body roll, and allow for lower ride heights without bottoming out. For a street MR2 I would suggest rates in the range of 250 / 350lb/in (front/rear), up to about 350 / 450 , paired with your choice of sway bar(s). A front bar only might be sufficient, depending on your goals and preferences. For comparison purposes, those rates in kg/mm (k) are approximately equal to 4.5k / 6.25k, and 6.25k / 8k. For slightly softer ride the front rates can be reduced some relative to the rear rates, but more front sway bar stiffness will likely be required to balance the handling.
For a more track oriented (or track only) car, higher rates are appropriate. I have run as high as 550 / 700 (9.8k / 12.5k) on my car with a Whiteline front sway bar. This worked OK on a smooth track, but I had some trouble getting it properly damped for bumpier autocross courses. I have since dropped down to 400 / 550 (7.1k / 9.8k) and like that setup better even on the smoother track. It is also quite a bit more comfortable on the road.

More information on spring rates and their relationship to shock valving can be found on my shock dyno blog post. Please contact me if you wish to discuss spring rate choice for your application.
Brand:WilhelmRaceworks